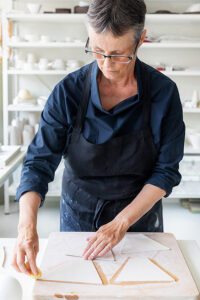 Pia Baastrup is known for her beautiful series of folded translucent porcelain, From Paper to Porcelain.
Each product in the series originates from cut and folded paper models, made of one or several pieces of paper, which are joined and subsequently recreated in porcelain.
First, Pia Baastrup rolls the porcelain into thin plates, then cuts according to the paper templates, and carves, bends and folds the porcelain like paper. Eventually cups, bowls, plates and dishes are created.
All products are created by hand without the use of forms. Therefore, there are small differences between the individual products, making each product unique.
The porcelain series, developed over the last 16 years, has a simple and clean expression, with translucent design principles and easy recognition of the quality of the materials used. It currently consists of around 20 products in different sizes and colors, from plates over cups to serving dishes and bowls.
Pia Baastrup regularly renews and adds new products to the series, which now also includes stoneware and earthenware products.
In 2008, Pia Baastrup took part in the relaunch of Butik for Borddækning (Shop for Table Settings) and was a member of the store for 10 years until it closed in 2019. More than 50 exhibitions were on display during the 10 years in which the shop was open. In 2016, Pia Baastrup was among the curators when Butik for Borddækning, was tasked with curating a new dining set for the Danish Embassy in Washington DC.
Pia Baastrup is a member of the Danish Crafts & Design Association and has received several grants over the years.
Read more on Danish Crafts & Design Association
Tableware for the Danish Embassy in Washinton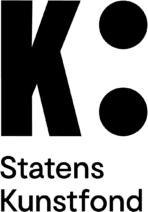 Thanks to The Danish Arts Foundation for supporting the webshop.